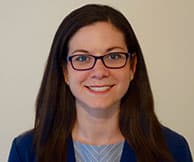 Andrea Finch is a licensed psychotherapist (LPC) and board-certified art therapist (ATR-BC). Andrea specializes in treating adults, adolescents, and couples with a wide range of treatment concerns, including trauma, depression, anxiety, relationship challenges, difficult life transitions, and chronic stress. She uses a psychodynamic approach and incorporates mindfulness, cognitive-behavioral, and art therapy techniques based on the needs of each client.
Andrea believes in the importance of the therapeutic alliance as a safe, secure base from which to embark on this journey together. Andrea helps her clients gain a better understanding of themselves and specific challenges they face, come to terms with the past, live more fully in the present, and work towards personal growth and healing. Her training in art therapy allows her to guide her clients in creating and exploring imagery to help them gain new insights and access and express feelings and memories where words are not possible.
Prior to joining Dr. Robin Lowey and Associates, Andrea worked in an outpatient program for adult survivors of recent and childhood trauma, abuse, and neglect, where she gained extensive experience in the treatment of PTSD, dissociative disorders, and trauma recovery. Her experience also includes working in an afterschool program for adolescent girls involved in the court system, an inpatient psychiatric and addiction hospital, a mental health clinic, and private practice.
Andrea received her Bachelor's degree from the University of Pennsylvania and her Master's degree from George Washington University. She earned a certificate in Clinical Psychotherapy Practice from the Washington School of Psychiatry and is a member of the Philadelphia Society for Psychoanalytic Psychology.