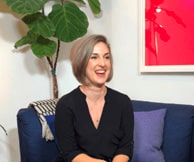 Amberlee is a licensed professional counselor (LPC) and board certificated dance/movement therapist (BC-DMT, reduced practice) and has worked in mental health/social work for over 15 years. She is a problem solver and advocate by nature. Amberlee specializes in life transitions (including, but not limited to, graduating, getting married, having a child, changing careers), depression, anxiety, and trauma.
Amberlee is trained in cognitive behavior therapy. She works with individuals to identify thoughts and behaviors that are inhibiting their lives and to restructure these thoughts to be more beneficial. The goal is to find more helpful ways of thinking so you can live with more ease and happiness.
Amberlee is also trained in dance/movement therapy and assesses the body and movements to understand how you are feeling and your history. She predominantly provides verbal therapy but if you are open to movement work, she will provide movement-based interventions and body-based mindfulness practices.
Amberlee is passionate about women's rights and enjoys working with women to identify thoughts and behaviors ingrained by society and how to change them for more freedom and balance. She also specializes in working with mothers (working, on-the-go or at-home). She is a Mom of two and often relies on her personal experience as a tool in therapy. Amberlee likes to work with mothers to find balance in their lives and to transition into motherhood with ease.
In the initial visit, Amberlee will ask about your upbringing and childhood, but also focus on what is happening in the present and the changes the individual wants to make now. She provides a safe and judgement-free space so that individuals can freely express themselves and feel nurtured. You will walk away with tools, practices, and different ways of thinking that will enhance your everyday life.