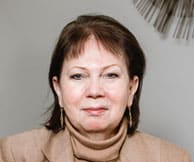 Dorothy Gjurin is a Licensed Professional Counselor (LPC) with more than 20 years of experience. She works with adults ages 18 years and over, both in individual therapy as well as in couples' counseling. She received her Master's degree in Counseling Psychology from Chestnut Hill College, after a career in writing.
Dorothy treats a broad range of general problems, but her special interest areas include trauma/PTSD, particularly sexual trauma. She is also experienced with and interested in the concerns of clients in the LGBTQ community.
She is an eclectic therapist, utilizing techniques ranging from Gestalt to Prolonged Exposure (PE), depending on who the client is and their presenting issues. Still, she believes that every positive outcome in treatment is rooted in a strong therapeutic alliance between client and counselor, regardless of techniques and approaches.
Dorothy enjoys Blues, Bluegrass, Folk and Classic Rock music, and loves antique furniture and decor, especially Art Deco and Art Nouveau styles. She is an armchair scientist, with interests ranging from archeology and geology to particle physics.