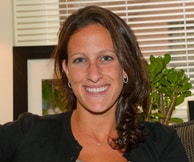 Dr. Noa Glick is a Licensed Clinical Psychologist who specializes in providing therapy and assessment. Her experience includes working with the adult and young adult population.
Dr. Glick received her Bachelor's Degree from Skidmore College, majoring in Psychology and Women's Studies, and received her Master's and Doctoral Degrees in Clinical Psychology from Nova Southeastern University. She completed her internship at UMASS Amherst's University Mental Health Services and her post doctoral experience at Temple University's Tuttleman Counseling Services.
Dr. Glick worked at the Renfrew Center, a center for Eating Disorders, from 2004-2010. Her areas of expertise include the treatment of eating disorders and body image, women's issues, grief and loss, depression, and anxiety. She has experience working in outpatient, partial hospitalization, and residential programs. In addition to therapy, Dr. Glick has experience providing psychological and psycho-educational assessment to children, adolescents, and adults.
She believes that past experiences influence the present, and works in a collaborative nature to help support and empower her clients. Her approach is eclectic, using Cognitive Behavioral Therapy, Family Systems, and Insight-oriented Therapy.