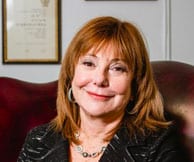 Dr. Robin Lowey is a psychologist who has earned regional and international recognition in the fields of depression, anxiety, posttraumatic stress, and relationship counseling.
Dr. Lowey received her undergraduate degree in Psychology at the University of Rochester, and then obtained her Masters and Doctorate at Temple University.
Her professional career began with 10 years of international experience, first living in Israel for seven years where she founded and directed the first telephone crisis hotline in Tel Aviv and where she received an advanced certification in Psychotherapy from the Sackler School of Medicine, Tel Aviv University. During this period Dr. Lowey developed her lifelong interest and expertise in treatment of posttraumatic stress disorders.
Dr. Lowey then moved to Rome where for three years she had a private practice counseling expatriate patients how to cope with the psychological challenges of adapting to different cultures and work environments and with the consequent strains on personal relationships.
In 1985 Dr. Lowey returned to the United States and completed her doctoral work at Temple University and received her Ph.D. in Counseling Psychology in 1988.
Upon receiving her degree, she founded the psychological practice of Dr. Robin Lowey & Associates, assembling an interdisciplinary group of other dedicated mental health professionals devoted to providing a full range of mental health counseling at offices in Center City and in Northeast Philadelphia.
Though, no longer managing the business, Dr. Lowey continues to maintain a full time schedule of treating adult patients with a variety of mental health issues. She provides extensive counseling for crime victims, and for individuals involved in worker's compensation cases caused by job-related injuries. Her other areas of proficiency include improving relationships in both the heterosexual as well as the gay and lesbian communities; building self-esteem, and assertiveness training.
Dr. Lowey believes that her many years of varied experience in different cultures coupled with a comfortable, caring manner help her to create a non-threatening atmosphere in which her patients can open up to reveal problems, explore options to cope with or eliminate those problems, and begin to make positive changes in their lives.