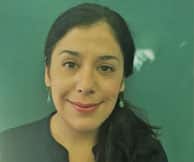 Florencia Pahl is a Doctor of Psychology focusing on adult mental health. She is bilingual in Spanish/ English and able to work with clients in both languages.
Dr. Pahl received her Licentiate in Psychology from Universidad de la Cuenca del Plata, Argentina. She then completed a Pre-Doctoral Fellowship at the Bilingual Treatment Program, at NYU/Bellevue Hospital in New York. Dr. Pahl subsequently received a Doctor of Psychology degree (Psy.D.) at La Salle University, in Philadelphia. She completed her clinical psychology internship at the Mount Sinai St. Luke's and Roosevelt hospitals in New York and a Post-Doctoral Fellowship in health psychology/behavioral medicine at Cooper University Hospital in New Jersey.
Dr. Pahl completed a post-graduate program through Harvard University addressing trauma and global mental health with emphasis in asylum seeking and refugee populations. She is also trained in Cognitive Behavioral Therapy, Interpersonal Psychotherapy (level A through the IPT institute) and Dialectical Behavior Therapy (DBT, through Behavioral Tech).
After completing her training, Dr. Pahl worked as a clinical psychologist at NY Presbyterian Hospital, Columbia University in NYC, where she held academic appointments at the Assistant Professor level. She then went on to work as a staff psychologist at a Veterans Affairs Medical Center, where she conducts psychological evaluations and follow ups for individuals in need of bariatric surgery, transplants, and rTMS.
Multicultural psychotherapy and culturally sensitive interventions permeate Florencia's approach to psychotherapy. She is passionate about empowering individuals, working through experiences related to social justice, and the intersection of culture, gender and race.
Florencia's areas of interest include health promotion and management of depression and anxiety. She has expertise in assisting individuals to cope with and process grief and loss. She is also adept at helping her patients navigate life transitions and understand and improve ways of connecting and communicating with others. Dr. Pahl focuses on working with patients to help them achieve their full potential and wellbeing. As a subspecialty, Dr. Pahl is proficient in helping individuals manage the psychological aspects underlying chronic health conditions, as well as helping pregnant and post-partum women cope with emotional and psychological concerns. Dr. Pahl is eager to continue with that work at Dr. Robin Lowey & Associates.
In addition to the work described above, Dr. Pahl also volunteers with the Asylum Network, Physicians for Human Rights and Columbia Asylum Clinic in NYC, where she completes forensic evaluations for asylum seekers.