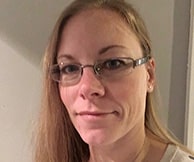 Alex is a Licensed Professional Counselor who specializes in conducting individual therapy with adolescents and adults. Alex has worked with a diverse population since beginning her career in 2010 and she has a wealth of experience treating individuals who have struggled with trauma, addiction, bereavement, relationship problems and career concerns. While helping those with anxiety and depression is her primary passion, Alex also views her ability to assist people in better managing their anger and cope with grief and loss as a strength. She has recently developed a specialization in supporting new parents and counseling those with postpartum depression as well.
In addition to her work with individual clients, Alex also works with couples and families, and is skilled in assisting parents in better managing their children's behaviors utilizing behavior modification strategies.
Alex tailors therapy to fit each individual client. In counseling sessions, she utilizes an eclectic approach focusing on helping her clients to achieve goals that are behaviorally, emotionally and spiritually oriented. She employs sand tray therapy as well, a powerful therapeutic tool to help those who have been traumatized or feel "stuck" and unable to find words to express their concerns.
Collaboration in treatment is necessary when working with Alex and she will help you achieve a level of comfort, so you can advocate for yourself in therapy and in life.