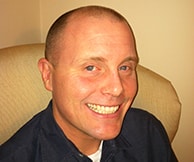 Andrew McGinley is a licensed psychotherapist (LPC) who currently works with individuals, couples, and families, men, women, young adults, and children.
Using a psychodynamic approach, Andrew treats a variety of concerns including anxiety, trauma, bereavement, and parenting. He also works with individuals in recovery, and coping with an addicted loved one.
He is currently writing about men in therapy seeking help with job dissatisfaction, new and expectant fatherhood, and attachment.
Andrew's aim is to facilitate his clients in understanding and overcoming their obstacles to having a good life.
Andrew is a member of the Philadelphia Society for Psychoanalytic Psychology.