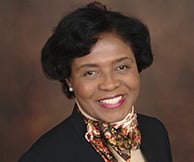 Dr. Bijoux-Leist was originally trained as a medical doctor in Haiti in the 1980s. After moving to the United States in the 1990s, she embarked upon a new career as a psychotherapist. She has since earned a Master's Degree in Counseling Psychology from Villanova University and a Doctorate in Clinical Psychology from Chestnut Hill College. She is currently licensed as both a psychologist and a marital and family therapist. She conducts individual therapy, as well as therapy with families and couples.
Dr. Bijoux-Leist thrives to create a space where clients feel safe to self-explore and identify inner resources for more fulfilling lives. She believes that biological, intrapsychic, familial and environmental factors often interact or contribute to presenting problems. Consequently, her approach is integrative and tailored to each individual.
Dr. Bijoux-Leist's education, training and experience as both a physician and a therapist, provide a very creative and effective way of working with individuals with physical health issues such as Multiple Sclerosis, Lupus and Parkinson's disease, amongst many others.
Specific areas of expertise include:
Physical health related stressors
Relationship problems
Identity and life transitions issues
Anxiety
Depression
Grief and loss
High conflict couples
Infidelity issues
Interracial/Inter-Ethnic couples & families
*Dr. Bijoux-Leist is retired from medicine and is not currently a medical practitioner