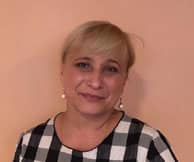 Iryna Zhyrenko is a Licensed Professional Counselor with over twelve years of experience treating people with anxiety, depression, mood disorders, trauma, grief and loss, relationship conflicts, self-esteem concerns and life stress.
Iryna received a Master's Degree in Counseling Psychology from Holy Family University in 2006 and she has been certified by the City of Philadelphia's Department of Behavioral Health and the Department of Psychiatry at the University of Pennsylvania to provide cognitive therapy in community settings. She also has participated in specialized training which enables her to provide evidence-based practices, such as cognitive-behavioral therapy, mindfulness based treatment and Motivational Interviewing. Iryna is fluent in Russian.
Iryna believes firmly that "The most important relationship in life is the one we have with ourselves." Whether this is your first time in therapy or you have previous experience with counseling, Iryna is here to help you on your journey. Iryna focuses on making therapy a comfortable, nurturing and effective experience. Her goal is to create a safe place in which her clients can discover how patterns of thinking or acting may be producing anxiety, stress or dissatisfaction in their relationships with themselves and others. She is skilled at helping her clients recognize their gifts and celebrate the lives they have been given.